Explore Dutchess County NY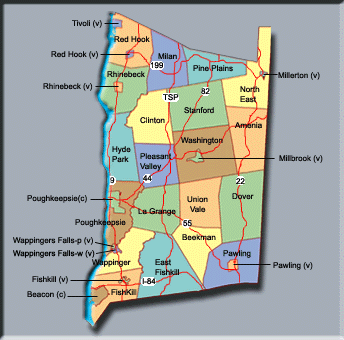 Nestled in the beautiful Hudson Valley between New York City and Albany, Dutchess County is an ideal spot to live, work, and play. In fact, this prosperous area continues to draw residents who yearn for a small town lifestyle and natural beauty, without leaving behind the urban excitement of New York City which is just a short trip away. Dutchess County offers world-class shopping, dining, culture, and great educational and job opportunities, all framed by breathtaking views of the Hudson Valley's scenic rolling hills and fertile valleys. By living in Dutchess , you can truly have it all!
Realtor Michael Arrick is proud to offer you the most comprehensive real estate site in Dutchess County Here you can explore the beautiful communities of Dutchess County New York
Feel free to use this site as your primary source for all Here you will find plenty of useful information on our communities as well as plenty of information for both buyers and sellers. Search for available properties using convenient Home Search Tools
Whether you are a first time or a seasonal Michael Arrick is committed to helping you find the perfect property to fit your lifestyle. With her detailed knowledge of the area and highest possible commitment to your success, Bela would welcome the opportunity to meet with you and discover how you can work together to start turning your dreams into reality.
Dutchess County Tourism Web Site
Testimonials
" Michael Arrick is a proficient, knowledgeable and client-centric realtor who leans in with a drive to get your home sold. It's no secret that he holds an unwavering passion for the business and will go above beyond to communicate and establish in person meetings around the progress of your property. Keeping you warm to real estate events in the local area that may or may not disrupt the sale of your home. It's great to know that there are dedicated professionals like Michael out in the real estate field who are wholeheartedly committed to meeting the needs of clients. Hope to work with Michael Arrick again in the near future "
- 11/05/2018 - omarmorrison1
" The one and only Michael Arrick worked overtime and went above and beyond to be sure all of our needs were met. He made sure to let me know well in advance of what needed to be done in order to sell my property at the highest selling price possible. PurpleBricks didn't do him any favors, but their "flat-rate" saved me a couple thou. Thanks Mike "
- Charles Harrison
" Michael was very professional throughout the entire sell process. His attention to detail was extremely helpful in the listing and showing of our home. I would recommend him without any reservations. "
- 11/19/2018 - Anita Mayfield Sold a Single Family home in 2018 in Campbell Hall, NY.
" Michael and I were on the same page the whole time He was polite, punctual and responsive to all our needs. He was back in touch in no time went out of his way to make sure we knew the selling process. He would check up on us to make sure we and the lawyers had all the necessary paperwork in a timely manner. It was a pleasure to work with a true professional and told us just what to expect and laid the groundwork for a smooth transition to get our home sold.. Michael Arrick is the agent to get the job done...... "
- 01/07/2019 - campmurfch Sold a Single Family home in 2018 in Middletown, NY.
" "To Michael Arrick, Just wanted to take a few minutes to express my appreciation for all the hard work you did in my behalf of selling my house.Your FORTHRIGHTNESS,INTEGRITY, VISION and ABILITY are a testament to the overall success of this sale. I realize that he has high standards in their business dealings. YOU personally exceeded those standards which made this sale a success. Thank you again for your personal attention to details which gave me complete confidence in being represented by you. Looking forward to working again with you in the future. Best regards, WERNER H. FROST, owner" "
- Werner Frost
" I sold my property with Michael Arrick's very professional help. I liked him instantly and he made me feel comfortable with this new experience. He was knowledgeable and available at all times, experienced with other realtors, lending institutions and attorneys. I was totally comfortable with the process and of course the savings, which was noticed by the attorneys at the closing. All in I would recommend Michael in a heartbeat. Thank you Michael! "
- 09/27/2018 - pgprefer Sold a Single Family home in 2018 in Poughquag, NY.
" I had a wonderful experience working with Mike. He was always available, responded quickly to all my multitude of questions and concerns. I highly recommend using Mike as your realtor. He's a real go-getter! "
- John Donovan
Previous
Next